Live affordably with
a Japanese family


Popular Locations
Tokyo
Osaka
Kyoto
Nagoya
Shinjuku
Why Homestay?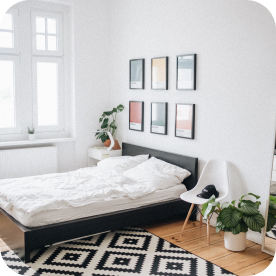 -¥40K~¥60K rent
-All utilities included
-No deposit or key money
-Get discounts by offering your skills or help to your host

2. Learn
Japanese Language
Living and interacting with locals is the best way to learn Japanese.

3. Learn deeply about
Japanese culture
Through living and interacting with local people, you can learn more about Japan in a deeper way.
Why Homii?
*What's homestay insurance?
FAQ
1. With Homii, how do payments work?
A: For the safety and ease of both the guest and host, payments each month are done through Homii. The guest sends the payment to Homii, then Homii passes it to the host. On the host side, it's safer because guests make the monthly rent payment in advance instead of in person. Also, since things related to money can be a little awkward, it's just easier as well to be able to confirm with Homii that the payment is made versus having to ask the guest directly. On the guest side, it's safer because although the guest makes the payment in advance, hosts receive the payment after the month has passed. This delay protects the guest from things like the host suddenly changing something last minute and not accepting the guest. Of course, this is hopefully unlikely in the first place, but it's nice to have this ease of mind especially for guests not yet in Japan. Also, paying a host in person or making a transfer online or through a bank directly to them can be a little uncomfortable, so this way makes things a little easier.
2. How do I make the payment?
A: 1. With Stripe If your stay with Homii will start the same day you arrive in Japan, then you'll need to make your payment before arriving in Japan to meet the payment deadline. Use one of these methods:a. With Stripe You can make payments by credit card. ***Paying by credit card is convenient and very fast. Stripe charges a 3.6% fee per payment (we'll add the 3.6% fee to the total), so be aware of this. How: Notify us by LINE that you'd like to pay by Stripe or open this email with the email account that you used to register with Homii and send the email to us to receive a Stripe payment link. For the safety and ease of both the guest and host, payments each month are done through Homii. The guest sends the payment to Homii, then Homii passes it to the host. 2. Bank Transfer If you don't have a credit card to pay by Stripe, please contact
us
.
3. Is it possible to first try out living at a host's place?
A: You can use the first two weeks to figure out if you like living together or not and if the place is right for you. After the first two weeks living at a host's place, Homii will check in with both you and the host. After the two weeks, if you feel that you like the place and living with the host, simply let us know. Assuming the host also feels that it's a good match, then you can decide to continue your stay longer. After the two weeks, in the case that you or the host feels that it's not a good match, you'll still have two weeks to make a new arrangement. We'd be happy to assist you in finding another more suitable Homii host and place for you. Or if you'd like to go with other arrangements outside Homii, that's perfectly okay too, and if there's a way we can be of help in that, we'd be happy to.
4. What if my host decides to stop hosting me before the end of the homestay?
A: If your host decides to stop hosting you, he/she has to inform you and us in advance. We may refund the homestay fee, but it depends on the host's reason of cancellation. If you need a place to stay after you leave your host, we'll be happy to assist you in finding another more suitable Homii host, or some other place for you to stay.
5. What is homestaying?
Homestaying is a popular form of hospitality and lodging whereby visitors share a residence with locals of the city to which they are traveling. It's an affordable accommodation alternative, ideal for independent travellers of all ages, interns, gap year students, students living abroad and anyone seeking a real and special travel experience of living with a local family.
6. What are differences between Homii's homestay and other homestays?
With Homii, your contract is renewed every month, so instead of having to be set in a 6 month, 1 year or 2 year contract like most rentals, you can decide to stay a month longer or not each month. For example, say you want to come to Japan to look for a job. Maybe it's your desire to stay a year or more, but unless you find a job, you will only be able to stay for three months maximum. For a normal rental apartment with a yearly or two year contract, it would be really risky if things didn't work out. But with Homii, you can have the flexibility to be able to stay a year or more, but not be penalized if you leave earlier.
Want to become a Homii host?
Being a host gives you a unique opportunity to experience other cultures and establish lifelong friendships.
Hosting merits
1
Lifelong memories and relationships between your family and the guest
2
The option to choose whether or not to provide meals
3
Collecting a homestay fee averaging 50,000yen