Male
Female
Couple
Fall in love with city & people of Kyoto
About the host
a radiological technologist
About the host's daily life
Homemade dinner by a gues
You can enjoy hobbies
Study time
Challenge to make sushi
No guitar but ukulele!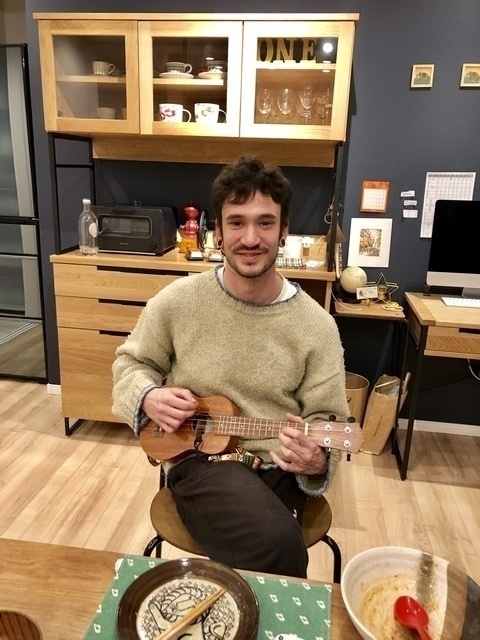 We made gyoza
help prepare for dinner
Enjoy Matcha!
Japanese play, Karuta.
Bouldering
Picnic!
Sakura mochi hot sand
What you can experience here
-
Memories that the host wants to make with you
About the host's place
- The nearest station
8 mins walk from Rokujizo (Nara Line)
- How far from the center of the city
17 mins from Rokujizo to Kyoto (Nara Line) From Kyoto 17 mins to Saga-Arashiyama (Sagano Line) 28 mins to Kameoka 29 mins to Osaka (Kyoto Line) 55 mins to Kobe
- Surrounding facilities
Convenience store (8 min walk) Supermarket (5 min walk)
Living room
Entrance
Kitchen
Living room
Living room
a
Bathroom
Bathroom
Washroom & Bathroom
Washroom
Washroom
Yoga and stretching
There is a river 5minutes from the house
view from the kitchen
garden
Condiments and seasonings
*Meal frequency depends on each host.
Staying overnight elsewhere
1. The common space will be cleaned by the host, but when you mess up please clean by yourself. 2. You can use the kitchen freely, but please avoid using from around 6pm when the host cooks dinner. 3. You can invite your friends only when the hosts will be at home.
Room A
See this room's availability
Room B
See this room's availability
More
Jiyoung
Student / 1st month
Sasha
Student / 6th month